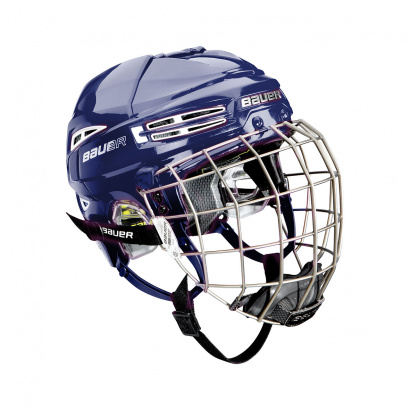 Code: 1044647
Hockey Helmet BAUER RE-AKT 100 Combo - BLU
Elbow's pads sizes charts
SENIOR (Sr) elbow pads sizes

| | | | |
| --- | --- | --- | --- |
| | S | M | L |
| age | 14+ | 14+ | 15+ |
| weight (kg) | 54 - 73 | 64 - 82 | 73 - 91 |
| height (cm) | 165 - 175 | 170 - 180 | 175 - 185 |
| length protectors (cm) | 30 - 33 | 33 - 36 | 36 - 38 |
JUNIOR (Jr) elbow pads sizes

| | | |
| --- | --- | --- |
| | S | L |
| age | 8 - 11 | 11 - 14 |
| weight (kg) | 27 - 41 | 36 - 50 |
| height (cm) | 130 - 147 | 140 - 163 |
| length protectors (cm) | 23 - 28 | 25 - 30 |
Youth (Yth) elbow pads sizes

| | | |
| --- | --- | --- |
| | S | L |
| age | 4 - 7 | 6 - 9 |
| weight (kg) | 18 - 27 | 23 - 32 |
| height (cm) | 100 - 124 | 114 - 140 |
| length protectors (cm) | 18 - 20 | 20 - 23 |
Shoulder's pads size charts
SENIOR (Sr) shoulder pads sizes

| | | | | |
| --- | --- | --- | --- | --- |
| | S | M | L | XL |
| age | 14+ | 14+ | 15+ | 15+ |
| weight (kg) | 54 - 73 | 64 - 82 | 73 - 91 | 82 - 100 |
| height (cm) | 165 - 175 | 170 - 180 | 175 - 185 | 180 - 191 |
| chest perimeter (cm) | 91 - 102 | 97 - 107 | 102 - 112 | 107+ |
JUNIOR (Jr) shoulder pads sizes

| | | | |
| --- | --- | --- | --- |
| | S | M | L |
| age | 8 - 11 | 9 - 12 | 11 - 14 |
| weight (kg) | 27 - 41 | 32 - 45 | 36 - 50 |
| height (cm) | 130 - 142 | 140 - 152 | 150 - 163 |
| chest perimeter (cm) | 66 - 76 | 71 - 81 | 76 - 86 |
Youth (Yth) shoulder pads sizes

| | | |
| --- | --- | --- |
| | S | L |
| age | 4 - 7 | 6 - 9 |
| weight (kg) | 18 - 27 | 23 - 32 |
| height (cm) | 100 - 124 | 114 - 140 |
| chest perimeter (cm) | 56 - 66 | 61 - 71 |
Player's pants size chart
SENIOR (Sr) pant sizes

| | | | | | |
| --- | --- | --- | --- | --- | --- |
| | S | M | L | XL | XXL |
| age | 14+ | 14+ | 15+ | 15+ | 15+ |
| weight (kg) | 54 - 73 | 64 - 82 | 73 - 91 | 82 - 100 | 91+ |
| height (cm) | 165 - 175 | 170 - 180 | 175 - 185 | 180 - 191 | 185+ |
| waist pants (cm) | 76 - 86 | 81 - 91 | 86 - 97 | 91 - 102 | 102+ |
JUNIOR (Jr) pant sizes

| | | | | | |
| --- | --- | --- | --- | --- | --- |
| | S | M | L | LT | XL |
| age | 8 - 10 | 9 - 11 | 10 - 12 | 10 - 12 | 12 - 15 |
| weight (kg) | 27 - 31 | 32 - 41 | 39 - 45 | 39 - 45 | 41 - 54 |
| height (cm) | 130 - 140 | 137 - 147 | 145 - 147 | 152 - 163 | 152 - 163 |
| waist pants (cm) | 56 - 61 | 61 - 66 | 66 - 71 | 66 - 71 | 71 - 76 |
Youth (Yth) pant sizes

| | | | |
| --- | --- | --- | --- |
| | S | M | L |
| age | 4 - 7 | 5 - 8 | 6 - 9 |
| weight (kg) | 18 - 27 | 20 - 29 | 23 - 32 |
| height (cm) | 100 - 124 | 109 - 132 | 114 - 140 |
| waist pants (cm) | 51 - 56 | 53 - 58 | 53 - 58 |
Women (Wmn) pant sizes

| | | | | |
| --- | --- | --- | --- | --- |
| | S | M | L | XL |
| age | 12+ | 12+ | 12+ | 12+ |
| weight (kg) | 27 - 41 | 32 - 45 | 36 - 50 | 41 - 54 |
| height (cm) | 135 - 160 | 140 - 165 | 145 - 170 | 155 - 175 |
| waist pants (cm) | 61 - 69 | 66 - 74 | 71 - 79 | 76 - 84 |
Shin guards size chart
SENIOR (Sr) shin guard sizes

| | | | | | | |
| --- | --- | --- | --- | --- | --- | --- |
| | S - 13" | M - 14" | L - 15" | XL - 16" | XXL - 17" | XXXL - 18" |
| age | 14+ | 14+ | 15+ | 15+ | 15+ | 15+ |
| weight (kg) | 54 - 73 | 64 - 82 | 73 - 91 | 82 - 100 | 91+ | 91+ |
| height (cm) | 165 - 175 | 170 - 180 | 175 - 185 | 180 - 191 | 185+ | 185+ |
| shin length (cm) | 30 - 33 | 33 - 36 | 36 - 38 | 38 - 41 | 41 - 43 | 43 - 46 |
JUNIOR (Jr) shin guard sizes

| | | | |
| --- | --- | --- | --- |
| | S - 10" | M - 11" | L - 12" |
| age | 8 - 11 | 9 - 12 | 11 - 14 |
| weight (kg) | 27 - 41 | 32 - 45 | 36 - 50 |
| height (cm) | 130 - 142 | 140 - 152 | 150 - 163 |
| shin length (cm) | 23 - 28 | 25 - 28 | 25 - 30 |
Youth (Yth) shin guard sizes

| | | | |
| --- | --- | --- | --- |
| | S - 7" | M - 8" | L - 9" |
| age | 4 - 7 | 5 - 8 | 6 - 9 |
| weight (kg) | 18 - 27 | 20 - 29 | 23 - 32 |
| height (cm) | 100 - 124 | 109 - 132 | 114 - 140 |
| shin length (cm) | 15 - 18 | 18 - 20 | 20 - 23 |
Helmet size charts
| | | | | | |
| --- | --- | --- | --- | --- | --- |
| | XS | S | M | L | XL |
| head perimeter (cm) | 50 - 55 | 52 - 56 | 55 - 59 | 58 - 62 | 59 - 63 |
Gloves size charts
SENIOR (Sr) gloves sizes

| | | | |
| --- | --- | --- | --- |
| | S - 13" | M - 14" | L - 15" |
| age | 14+ | 14+ | 15+ |
| weight (kg) | 54 - 73 | 64 - 82 | 73 - 91 |
| height (cm) | 165 - 175 | 170 - 180 | 175 - 185 |
| gloves length (cm) | 30 - 33 | 33 - 36 | 36 - 38 |
JUNIOR (Jr) gloves sizes

| | | | |
| --- | --- | --- | --- |
| | S - 10" | M - 11" | L - 12" |
| age | 8 - 11 | 9 - 12 | 11 - 14 |
| weight (kg) | 27 - 41 | 32 - 45 | 36 - 50 |
| height (cm) | 130 - 142 | 140 - 152 | 150 - 163 |
| gloves length (cm) | 23 - 25 | 25 - 28 | 28 - 30 |
Youth (Yth) gloves sizes

| | | |
| --- | --- | --- |
| | S - 8" | M - 9" |
| age | 4 - 7 | 6 - 9 |
| weight (kg) | 18 - 27 | 23 - 32 |
| height (cm) | 100 - 124 | 114 - 140 |
| gloves length (cm) | 18 - 20 | 20 - 23 |
Player's and goalie's skates size charts
SENIOR (Sr) skates sizes

| | | | | | | | | | | | | | |
| --- | --- | --- | --- | --- | --- | --- | --- | --- | --- | --- | --- | --- | --- |
| BAUER | 6 | 6.5 | 7.0 | 7.5 | 8 | 8.5 | 9 | 9.5 | 10 | 10.5 | 11 | 11.5 | 12 |
| | D/EE | D/EE | D/EE | D/EE | D/EE | D/EE | D/EE | D/EE | D/EE | D/EE | D/EE | D/EE | D/EE |
| | R | --- | R | --- | R | --- | R | --- | R | --- | R | --- | R |
| EUR | 40.5 | 41 | 42 | 42.5 | 43 | 44 | 44.5 | 45 | 45.5 | 46 | 47 | 47.5 | 48 |
| UK | 6.5 | 7 | 7.5 | 8 | 8.5 | 9 | 9.5 | 10 | 10.5 | 11 | 11.5 | 12 | 12.5 |
| US | 7.5 | 8 | 8.5 | 9 | 9.5 | 10 | 10.5 | 11 | 11.5 | 12 | 12.5 | 13 | 13.5 |
JUNIOR (Jr) skates sizes

| | | | | | | | | | | |
| --- | --- | --- | --- | --- | --- | --- | --- | --- | --- | --- |
| BAUER | 1 | 1.5 | 2 | 2.5 | 3 | 3.5 | 4 | 4.5 | 5 | 5.5 |
| | D/EE | D/EE | D/EE | D/EE | D/EE | D/EE | D/EE | D/EE | D/EE | D/EE |
| | R | --- | R | --- | R | --- | R | --- | R | --- |
| EUR | 33.5 | 34 | 35 | 35.5 | 36 | 36.5 | 37.5 | 38 | 38.5 | 39 |
| UK | 1.5 | 2 | 2.5 | 3 | 3.5 | 4 | 4.5 | 5 | 5.5 | 6 |
| US | 2 | 3 | 3 | 3.5 | 4 | 4.5 | 5 | 5.5 | 6 | 6.5 |
Youth (Yth) skates sizes
BAUER
8
9
10
10.5
11
11.5
12
12.5
13
13.5
D
D
D/EE
D/EE
D/EE
D/EE
D/EE
D/EE
D/EE
D/EE
R
R
R
---
R
---
R
---
R
---
EUR
26
27
28
29.5
31
32
Bauer skates - you can choose the width of the shoe toe: D - narrow, EE - wider
Goalie's pants size charts
SENIOR (Sr) pants sizes

| | | | | | |
| --- | --- | --- | --- | --- | --- |
| | XS | S | M | L | XL |
| waist pants (cm) | 61 - 66 | 66 - 76 | 76 - 86 | 86 - 97 | 97 - 107 |
INTERMEDIATE (Int) pants sizes

| | | | | |
| --- | --- | --- | --- | --- |
| | S | M | L | XL |
| waist pants (cm) | 66 - 71 | 66 - 76 | 76 - 86 | 86 - 97 |
JUNIOR (Jr) pants sizes

| | | | | |
| --- | --- | --- | --- | --- |
| | S | M | L | XL |
| waist pants (cm) | 61 - 66 | 66 - 71 | 71 - 76 | 76 - 81 |
Goalie's chest protectors
SENIOR (Sr) chest protectors sizes

| | | | | |
| --- | --- | --- | --- | --- |
| | S | M | L | XL |
| chest perimeter (cm) | 81 - 91 | 91 - 101 | 101 - 112 | 112 - 122 |
| height statures (cm) | 160 - 165 | 167 - 176 | 178 - 183 | 185 - 196 |
JUNIOR (Jr) / INTERMEDIATE (Int) chest protectors sizes

| | | | | |
| --- | --- | --- | --- | --- |
| | S | M | L | XL |
| chest perimeter (cm) | 50 - 61 | 61 - 71 | 71 - 81 | 81 - 91 |
| height statures (cm) | 122 - 135 | 132 - 140 | 137 - 150 | 160 - 165 |
HELMET
PROTECT YOUR LEGACY
Expertly applied with a complete fit system to deliver an enhanced level of protection on the ice. Featuring the SUSPEND-TECH 2 liner with FleXorb and VTX Technology with SEVEN+ for optimal impact management.

Experts state that concussions are mainly due to acceleration or deceleration of the brain, and helmets may not prevent concussions caused by these forces.
NEXT GENERATION PROTECTION
FleXorb features PORON® Performance Cushioning XRD® Extreme Impact Protection foam molded on a 4-way stretch fabric for optimal impact absorption. With multiple points of attachment, the SUSPEND-TECH 2 liner compresses and stretches to minimize excessive movement, providing protection against all hits in hockey.
---
ENHANCED PROTECTION. MINIMAL WEIGHT.
VTX technology with SEVEN+ offers optimal impact management for both high- and low-energy impacts while providing a significant weight reduction vs. traditional EPP foam.
Game Day Protection

VTX Technology with Seven+ protection
SUSPEND-TECH 2 Liner System w/ FleXorb technology
Triple-density impact management protection
Dual density ear cover protection

Customized Fit

YourFIT
Occipital Lock
Central tool-free adjustment

Comfort

Ventilation ports
Memory foam temple pads
Moisture Management Liner
Treated with MICROBAN®
PORON® Performance Cushioning XRD® Extreme Impact Protection
---
| | |
| --- | --- |
| Size and color | LARGEBLU SMALLGLD |