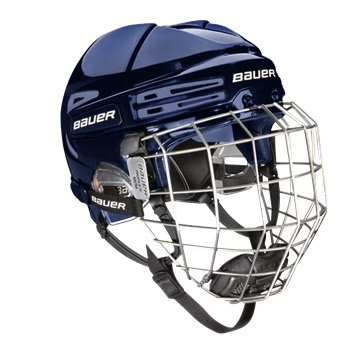 Code: 1047965
Hockey Helmet BAUER RE-AKT 75 Combo - NAV
Elbow's pads sizes charts
SENIOR (Sr) elbow pads sizes

| | | | |
| --- | --- | --- | --- |
| | S | M | L |
| age | 14+ | 14+ | 15+ |
| weight (kg) | 54 - 73 | 64 - 82 | 73 - 91 |
| height (cm) | 165 - 175 | 170 - 180 | 175 - 185 |
| length protectors (cm) | 30 - 33 | 33 - 36 | 36 - 38 |
JUNIOR (Jr) elbow pads sizes

| | | |
| --- | --- | --- |
| | S | L |
| age | 8 - 11 | 11 - 14 |
| weight (kg) | 27 - 41 | 36 - 50 |
| height (cm) | 130 - 147 | 140 - 163 |
| length protectors (cm) | 23 - 28 | 25 - 30 |
Youth (Yth) elbow pads sizes

| | | |
| --- | --- | --- |
| | S | L |
| age | 4 - 7 | 6 - 9 |
| weight (kg) | 18 - 27 | 23 - 32 |
| height (cm) | 100 - 124 | 114 - 140 |
| length protectors (cm) | 18 - 20 | 20 - 23 |
Shoulder's pads size charts
SENIOR (Sr) shoulder pads sizes

| | | | | |
| --- | --- | --- | --- | --- |
| | S | M | L | XL |
| age | 14+ | 14+ | 15+ | 15+ |
| weight (kg) | 54 - 73 | 64 - 82 | 73 - 91 | 82 - 100 |
| height (cm) | 165 - 175 | 170 - 180 | 175 - 185 | 180 - 191 |
| chest perimeter (cm) | 91 - 102 | 97 - 107 | 102 - 112 | 107+ |
JUNIOR (Jr) shoulder pads sizes

| | | | |
| --- | --- | --- | --- |
| | S | M | L |
| age | 8 - 11 | 9 - 12 | 11 - 14 |
| weight (kg) | 27 - 41 | 32 - 45 | 36 - 50 |
| height (cm) | 130 - 142 | 140 - 152 | 150 - 163 |
| chest perimeter (cm) | 66 - 76 | 71 - 81 | 76 - 86 |
Youth (Yth) shoulder pads sizes

| | | |
| --- | --- | --- |
| | S | L |
| age | 4 - 7 | 6 - 9 |
| weight (kg) | 18 - 27 | 23 - 32 |
| height (cm) | 100 - 124 | 114 - 140 |
| chest perimeter (cm) | 56 - 66 | 61 - 71 |
Player's pants size chart
SENIOR (Sr) pant sizes

| | | | | | |
| --- | --- | --- | --- | --- | --- |
| | S | M | L | XL | XXL |
| age | 14+ | 14+ | 15+ | 15+ | 15+ |
| weight (kg) | 54 - 73 | 64 - 82 | 73 - 91 | 82 - 100 | 91+ |
| height (cm) | 165 - 175 | 170 - 180 | 175 - 185 | 180 - 191 | 185+ |
| waist pants (cm) | 76 - 86 | 81 - 91 | 86 - 97 | 91 - 102 | 102+ |
JUNIOR (Jr) pant sizes

| | | | | | |
| --- | --- | --- | --- | --- | --- |
| | S | M | L | LT | XL |
| age | 8 - 10 | 9 - 11 | 10 - 12 | 10 - 12 | 12 - 15 |
| weight (kg) | 27 - 31 | 32 - 41 | 39 - 45 | 39 - 45 | 41 - 54 |
| height (cm) | 130 - 140 | 137 - 147 | 145 - 147 | 152 - 163 | 152 - 163 |
| waist pants (cm) | 56 - 61 | 61 - 66 | 66 - 71 | 66 - 71 | 71 - 76 |
Youth (Yth) pant sizes

| | | | |
| --- | --- | --- | --- |
| | S | M | L |
| age | 4 - 7 | 5 - 8 | 6 - 9 |
| weight (kg) | 18 - 27 | 20 - 29 | 23 - 32 |
| height (cm) | 100 - 124 | 109 - 132 | 114 - 140 |
| waist pants (cm) | 51 - 56 | 53 - 58 | 53 - 58 |
Women (Wmn) pant sizes

| | | | | |
| --- | --- | --- | --- | --- |
| | S | M | L | XL |
| age | 12+ | 12+ | 12+ | 12+ |
| weight (kg) | 27 - 41 | 32 - 45 | 36 - 50 | 41 - 54 |
| height (cm) | 135 - 160 | 140 - 165 | 145 - 170 | 155 - 175 |
| waist pants (cm) | 61 - 69 | 66 - 74 | 71 - 79 | 76 - 84 |
Shin guards size chart
SENIOR (Sr) shin guard sizes

| | | | | | | |
| --- | --- | --- | --- | --- | --- | --- |
| | S - 13" | M - 14" | L - 15" | XL - 16" | XXL - 17" | XXXL - 18" |
| age | 14+ | 14+ | 15+ | 15+ | 15+ | 15+ |
| weight (kg) | 54 - 73 | 64 - 82 | 73 - 91 | 82 - 100 | 91+ | 91+ |
| height (cm) | 165 - 175 | 170 - 180 | 175 - 185 | 180 - 191 | 185+ | 185+ |
| shin length (cm) | 30 - 33 | 33 - 36 | 36 - 38 | 38 - 41 | 41 - 43 | 43 - 46 |
JUNIOR (Jr) shin guard sizes

| | | | |
| --- | --- | --- | --- |
| | S - 10" | M - 11" | L - 12" |
| age | 8 - 11 | 9 - 12 | 11 - 14 |
| weight (kg) | 27 - 41 | 32 - 45 | 36 - 50 |
| height (cm) | 130 - 142 | 140 - 152 | 150 - 163 |
| shin length (cm) | 23 - 28 | 25 - 28 | 25 - 30 |
Youth (Yth) shin guard sizes

| | | | |
| --- | --- | --- | --- |
| | S - 7" | M - 8" | L - 9" |
| age | 4 - 7 | 5 - 8 | 6 - 9 |
| weight (kg) | 18 - 27 | 20 - 29 | 23 - 32 |
| height (cm) | 100 - 124 | 109 - 132 | 114 - 140 |
| shin length (cm) | 15 - 18 | 18 - 20 | 20 - 23 |
Helmet size charts
| | | | | | |
| --- | --- | --- | --- | --- | --- |
| | XS | S | M | L | XL |
| head perimeter (cm) | 50 - 55 | 52 - 56 | 55 - 59 | 58 - 62 | 59 - 63 |
Gloves size charts
SENIOR (Sr) gloves sizes

| | | | |
| --- | --- | --- | --- |
| | S - 13" | M - 14" | L - 15" |
| age | 14+ | 14+ | 15+ |
| weight (kg) | 54 - 73 | 64 - 82 | 73 - 91 |
| height (cm) | 165 - 175 | 170 - 180 | 175 - 185 |
| gloves length (cm) | 30 - 33 | 33 - 36 | 36 - 38 |
JUNIOR (Jr) gloves sizes

| | | | |
| --- | --- | --- | --- |
| | S - 10" | M - 11" | L - 12" |
| age | 8 - 11 | 9 - 12 | 11 - 14 |
| weight (kg) | 27 - 41 | 32 - 45 | 36 - 50 |
| height (cm) | 130 - 142 | 140 - 152 | 150 - 163 |
| gloves length (cm) | 23 - 25 | 25 - 28 | 28 - 30 |
Youth (Yth) gloves sizes

| | | |
| --- | --- | --- |
| | S - 8" | M - 9" |
| age | 4 - 7 | 6 - 9 |
| weight (kg) | 18 - 27 | 23 - 32 |
| height (cm) | 100 - 124 | 114 - 140 |
| gloves length (cm) | 18 - 20 | 20 - 23 |
Player's and goalie's skates size charts
SENIOR (Sr) skates sizes

| | | | | | | | | | | | | | |
| --- | --- | --- | --- | --- | --- | --- | --- | --- | --- | --- | --- | --- | --- |
| BAUER | 6 | 6.5 | 7.0 | 7.5 | 8 | 8.5 | 9 | 9.5 | 10 | 10.5 | 11 | 11.5 | 12 |
| | D/EE | D/EE | D/EE | D/EE | D/EE | D/EE | D/EE | D/EE | D/EE | D/EE | D/EE | D/EE | D/EE |
| | R | --- | R | --- | R | --- | R | --- | R | --- | R | --- | R |
| EUR | 40.5 | 41 | 42 | 42.5 | 43 | 44 | 44.5 | 45 | 45.5 | 46 | 47 | 47.5 | 48 |
| UK | 6.5 | 7 | 7.5 | 8 | 8.5 | 9 | 9.5 | 10 | 10.5 | 11 | 11.5 | 12 | 12.5 |
| US | 7.5 | 8 | 8.5 | 9 | 9.5 | 10 | 10.5 | 11 | 11.5 | 12 | 12.5 | 13 | 13.5 |
JUNIOR (Jr) skates sizes

| | | | | | | | | | | |
| --- | --- | --- | --- | --- | --- | --- | --- | --- | --- | --- |
| BAUER | 1 | 1.5 | 2 | 2.5 | 3 | 3.5 | 4 | 4.5 | 5 | 5.5 |
| | D/EE | D/EE | D/EE | D/EE | D/EE | D/EE | D/EE | D/EE | D/EE | D/EE |
| | R | --- | R | --- | R | --- | R | --- | R | --- |
| EUR | 33.5 | 34 | 35 | 35.5 | 36 | 36.5 | 37.5 | 38 | 38.5 | 39 |
| UK | 1.5 | 2 | 2.5 | 3 | 3.5 | 4 | 4.5 | 5 | 5.5 | 6 |
| US | 2 | 3 | 3 | 3.5 | 4 | 4.5 | 5 | 5.5 | 6 | 6.5 |
Youth (Yth) skates sizes
BAUER
8
9
10
10.5
11
11.5
12
12.5
13
13.5
D
D
D/EE
D/EE
D/EE
D/EE
D/EE
D/EE
D/EE
D/EE
R
R
R
---
R
---
R
---
R
---
EUR
26
27
28
29.5
31
32
Bauer skates - you can choose the width of the shoe toe: D - narrow, EE - wider
Goalie's pants size charts
SENIOR (Sr) pants sizes

| | | | | | |
| --- | --- | --- | --- | --- | --- |
| | XS | S | M | L | XL |
| waist pants (cm) | 61 - 66 | 66 - 76 | 76 - 86 | 86 - 97 | 97 - 107 |
INTERMEDIATE (Int) pants sizes

| | | | | |
| --- | --- | --- | --- | --- |
| | S | M | L | XL |
| waist pants (cm) | 66 - 71 | 66 - 76 | 76 - 86 | 86 - 97 |
JUNIOR (Jr) pants sizes

| | | | | |
| --- | --- | --- | --- | --- |
| | S | M | L | XL |
| waist pants (cm) | 61 - 66 | 66 - 71 | 71 - 76 | 76 - 81 |
Goalie's chest protectors
SENIOR (Sr) chest protectors sizes

| | | | | |
| --- | --- | --- | --- | --- |
| | S | M | L | XL |
| chest perimeter (cm) | 81 - 91 | 91 - 101 | 101 - 112 | 112 - 122 |
| height statures (cm) | 160 - 165 | 167 - 176 | 178 - 183 | 185 - 196 |
JUNIOR (Jr) / INTERMEDIATE (Int) chest protectors sizes

| | | | | |
| --- | --- | --- | --- | --- |
| | S | M | L | XL |
| chest perimeter (cm) | 50 - 61 | 61 - 71 | 71 - 81 | 81 - 91 |
| height statures (cm) | 122 - 135 | 132 - 140 | 137 - 150 | 160 - 165 |
---
HELMET
FIERCE PROTECTION FOR BOLD MOVES
The RE-AKT 75™ helmet combines SEVEN+ technology, XRD® Extreme Impact Protection foam and a suspended liner system for greater comfort and enhanced protection against even the toughest impacts.

Experts state that concussions are mainly due to acceleration or deceleration of the brain, and helmets may not prevent concussions caused by these forces.
FIT FOR SERIOUS PLAY
A suspended liner system and varying densities of soft foam allow for enhanced fit and maximum comfort so you can focus on the game.
Game Day Protection

Seven+ Technology™ Foam
XRD® Foam
Multi-density impact management foam
Ergo translucent ear covers

Customized Fit

Molded occipital feature
Tool-free adjustment

Comfort

XRD® Foam inserts treated with MICROBAN® Antimicrobial technology
Comfort fit suspended liner system
| | |
| --- | --- |
| Size and color | SMALLBLK MEDIUMBLK LARGEBLK SMALLNAV MEDIUMNAV SMALLWHT LARGEWHT |