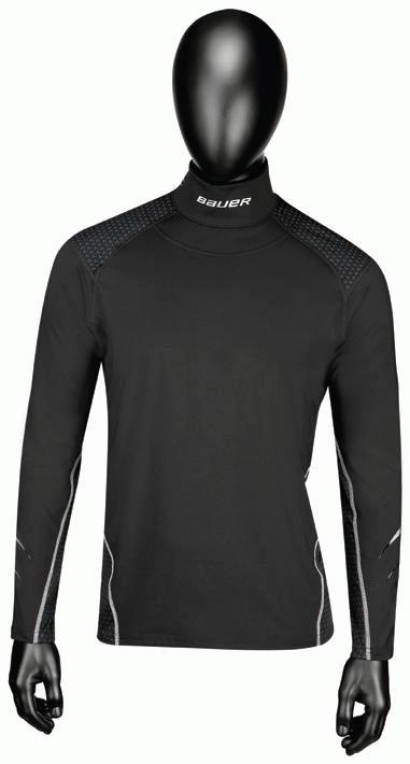 Code: RIBBA2
Hockey T-Shirt BAUER NG Premium Int.Neck LS Top Junior
Elbow's pads sizes charts
SENIOR (Sr) elbow pads sizes

| | | | |
| --- | --- | --- | --- |
| | S | M | L |
| age | 14+ | 14+ | 15+ |
| weight (kg) | 54 - 73 | 64 - 82 | 73 - 91 |
| height (cm) | 165 - 175 | 170 - 180 | 175 - 185 |
| length protectors (cm) | 30 - 33 | 33 - 36 | 36 - 38 |
JUNIOR (Jr) elbow pads sizes

| | | |
| --- | --- | --- |
| | S | L |
| age | 8 - 11 | 11 - 14 |
| weight (kg) | 27 - 41 | 36 - 50 |
| height (cm) | 130 - 147 | 140 - 163 |
| length protectors (cm) | 23 - 28 | 25 - 30 |
Youth (Yth) elbow pads sizes

| | | |
| --- | --- | --- |
| | S | L |
| age | 4 - 7 | 6 - 9 |
| weight (kg) | 18 - 27 | 23 - 32 |
| height (cm) | 100 - 124 | 114 - 140 |
| length protectors (cm) | 18 - 20 | 20 - 23 |
Shoulder's pads size charts
SENIOR (Sr) shoulder pads sizes

| | | | | |
| --- | --- | --- | --- | --- |
| | S | M | L | XL |
| age | 14+ | 14+ | 15+ | 15+ |
| weight (kg) | 54 - 73 | 64 - 82 | 73 - 91 | 82 - 100 |
| height (cm) | 165 - 175 | 170 - 180 | 175 - 185 | 180 - 191 |
| chest perimeter (cm) | 91 - 102 | 97 - 107 | 102 - 112 | 107+ |
JUNIOR (Jr) shoulder pads sizes

| | | | |
| --- | --- | --- | --- |
| | S | M | L |
| age | 8 - 11 | 9 - 12 | 11 - 14 |
| weight (kg) | 27 - 41 | 32 - 45 | 36 - 50 |
| height (cm) | 130 - 142 | 140 - 152 | 150 - 163 |
| chest perimeter (cm) | 66 - 76 | 71 - 81 | 76 - 86 |
Youth (Yth) shoulder pads sizes

| | | |
| --- | --- | --- |
| | S | L |
| age | 4 - 7 | 6 - 9 |
| weight (kg) | 18 - 27 | 23 - 32 |
| height (cm) | 100 - 124 | 114 - 140 |
| chest perimeter (cm) | 56 - 66 | 61 - 71 |
Player's pants size chart
SENIOR (Sr) pant sizes

| | | | | | |
| --- | --- | --- | --- | --- | --- |
| | S | M | L | XL | XXL |
| age | 14+ | 14+ | 15+ | 15+ | 15+ |
| weight (kg) | 54 - 73 | 64 - 82 | 73 - 91 | 82 - 100 | 91+ |
| height (cm) | 165 - 175 | 170 - 180 | 175 - 185 | 180 - 191 | 185+ |
| waist pants (cm) | 76 - 86 | 81 - 91 | 86 - 97 | 91 - 102 | 102+ |
JUNIOR (Jr) pant sizes

| | | | | | |
| --- | --- | --- | --- | --- | --- |
| | S | M | L | LT | XL |
| age | 8 - 10 | 9 - 11 | 10 - 12 | 10 - 12 | 12 - 15 |
| weight (kg) | 27 - 31 | 32 - 41 | 39 - 45 | 39 - 45 | 41 - 54 |
| height (cm) | 130 - 140 | 137 - 147 | 145 - 147 | 152 - 163 | 152 - 163 |
| waist pants (cm) | 56 - 61 | 61 - 66 | 66 - 71 | 66 - 71 | 71 - 76 |
Youth (Yth) pant sizes

| | | | |
| --- | --- | --- | --- |
| | S | M | L |
| age | 4 - 7 | 5 - 8 | 6 - 9 |
| weight (kg) | 18 - 27 | 20 - 29 | 23 - 32 |
| height (cm) | 100 - 124 | 109 - 132 | 114 - 140 |
| waist pants (cm) | 51 - 56 | 53 - 58 | 53 - 58 |
Women (Wmn) pant sizes

| | | | | |
| --- | --- | --- | --- | --- |
| | S | M | L | XL |
| age | 12+ | 12+ | 12+ | 12+ |
| weight (kg) | 27 - 41 | 32 - 45 | 36 - 50 | 41 - 54 |
| height (cm) | 135 - 160 | 140 - 165 | 145 - 170 | 155 - 175 |
| waist pants (cm) | 61 - 69 | 66 - 74 | 71 - 79 | 76 - 84 |
Shin guards size chart
SENIOR (Sr) shin guard sizes

| | | | | | | |
| --- | --- | --- | --- | --- | --- | --- |
| | S - 13" | M - 14" | L - 15" | XL - 16" | XXL - 17" | XXXL - 18" |
| age | 14+ | 14+ | 15+ | 15+ | 15+ | 15+ |
| weight (kg) | 54 - 73 | 64 - 82 | 73 - 91 | 82 - 100 | 91+ | 91+ |
| height (cm) | 165 - 175 | 170 - 180 | 175 - 185 | 180 - 191 | 185+ | 185+ |
| shin length (cm) | 30 - 33 | 33 - 36 | 36 - 38 | 38 - 41 | 41 - 43 | 43 - 46 |
JUNIOR (Jr) shin guard sizes

| | | | |
| --- | --- | --- | --- |
| | S - 10" | M - 11" | L - 12" |
| age | 8 - 11 | 9 - 12 | 11 - 14 |
| weight (kg) | 27 - 41 | 32 - 45 | 36 - 50 |
| height (cm) | 130 - 142 | 140 - 152 | 150 - 163 |
| shin length (cm) | 23 - 28 | 25 - 28 | 25 - 30 |
Youth (Yth) shin guard sizes

| | | | |
| --- | --- | --- | --- |
| | S - 7" | M - 8" | L - 9" |
| age | 4 - 7 | 5 - 8 | 6 - 9 |
| weight (kg) | 18 - 27 | 20 - 29 | 23 - 32 |
| height (cm) | 100 - 124 | 109 - 132 | 114 - 140 |
| shin length (cm) | 15 - 18 | 18 - 20 | 20 - 23 |
Helmet size charts
| | | | | | |
| --- | --- | --- | --- | --- | --- |
| | XS | S | M | L | XL |
| head perimeter (cm) | 50 - 55 | 52 - 56 | 55 - 59 | 58 - 62 | 59 - 63 |
Gloves size charts
SENIOR (Sr) gloves sizes

| | | | |
| --- | --- | --- | --- |
| | S - 13" | M - 14" | L - 15" |
| age | 14+ | 14+ | 15+ |
| weight (kg) | 54 - 73 | 64 - 82 | 73 - 91 |
| height (cm) | 165 - 175 | 170 - 180 | 175 - 185 |
| gloves length (cm) | 30 - 33 | 33 - 36 | 36 - 38 |
JUNIOR (Jr) gloves sizes

| | | | |
| --- | --- | --- | --- |
| | S - 10" | M - 11" | L - 12" |
| age | 8 - 11 | 9 - 12 | 11 - 14 |
| weight (kg) | 27 - 41 | 32 - 45 | 36 - 50 |
| height (cm) | 130 - 142 | 140 - 152 | 150 - 163 |
| gloves length (cm) | 23 - 25 | 25 - 28 | 28 - 30 |
Youth (Yth) gloves sizes

| | | |
| --- | --- | --- |
| | S - 8" | M - 9" |
| age | 4 - 7 | 6 - 9 |
| weight (kg) | 18 - 27 | 23 - 32 |
| height (cm) | 100 - 124 | 114 - 140 |
| gloves length (cm) | 18 - 20 | 20 - 23 |
Player's and goalie's skates size charts
SENIOR (Sr) skates sizes

| | | | | | | | | | | | | | |
| --- | --- | --- | --- | --- | --- | --- | --- | --- | --- | --- | --- | --- | --- |
| BAUER | 6 | 6.5 | 7.0 | 7.5 | 8 | 8.5 | 9 | 9.5 | 10 | 10.5 | 11 | 11.5 | 12 |
| | D/EE | D/EE | D/EE | D/EE | D/EE | D/EE | D/EE | D/EE | D/EE | D/EE | D/EE | D/EE | D/EE |
| | R | --- | R | --- | R | --- | R | --- | R | --- | R | --- | R |
| EUR | 40.5 | 41 | 42 | 42.5 | 43 | 44 | 44.5 | 45 | 45.5 | 46 | 47 | 47.5 | 48 |
| UK | 6.5 | 7 | 7.5 | 8 | 8.5 | 9 | 9.5 | 10 | 10.5 | 11 | 11.5 | 12 | 12.5 |
| US | 7.5 | 8 | 8.5 | 9 | 9.5 | 10 | 10.5 | 11 | 11.5 | 12 | 12.5 | 13 | 13.5 |
JUNIOR (Jr) skates sizes

| | | | | | | | | | | |
| --- | --- | --- | --- | --- | --- | --- | --- | --- | --- | --- |
| BAUER | 1 | 1.5 | 2 | 2.5 | 3 | 3.5 | 4 | 4.5 | 5 | 5.5 |
| | D/EE | D/EE | D/EE | D/EE | D/EE | D/EE | D/EE | D/EE | D/EE | D/EE |
| | R | --- | R | --- | R | --- | R | --- | R | --- |
| EUR | 33.5 | 34 | 35 | 35.5 | 36 | 36.5 | 37.5 | 38 | 38.5 | 39 |
| UK | 1.5 | 2 | 2.5 | 3 | 3.5 | 4 | 4.5 | 5 | 5.5 | 6 |
| US | 2 | 3 | 3 | 3.5 | 4 | 4.5 | 5 | 5.5 | 6 | 6.5 |
Youth (Yth) skates sizes
BAUER
8
9
10
10.5
11
11.5
12
12.5
13
13.5
D
D
D/EE
D/EE
D/EE
D/EE
D/EE
D/EE
D/EE
D/EE
R
R
R
---
R
---
R
---
R
---
EUR
26
27
28
29.5
31
32
Bauer skates - you can choose the width of the shoe toe: D - narrow, EE - wider
Goalie's pants size charts
SENIOR (Sr) pants sizes

| | | | | | |
| --- | --- | --- | --- | --- | --- |
| | XS | S | M | L | XL |
| waist pants (cm) | 61 - 66 | 66 - 76 | 76 - 86 | 86 - 97 | 97 - 107 |
INTERMEDIATE (Int) pants sizes

| | | | | |
| --- | --- | --- | --- | --- |
| | S | M | L | XL |
| waist pants (cm) | 66 - 71 | 66 - 76 | 76 - 86 | 86 - 97 |
JUNIOR (Jr) pants sizes

| | | | | |
| --- | --- | --- | --- | --- |
| | S | M | L | XL |
| waist pants (cm) | 61 - 66 | 66 - 71 | 71 - 76 | 76 - 81 |
Goalie's chest protectors
SENIOR (Sr) chest protectors sizes

| | | | | |
| --- | --- | --- | --- | --- |
| | S | M | L | XL |
| chest perimeter (cm) | 81 - 91 | 91 - 101 | 101 - 112 | 112 - 122 |
| height statures (cm) | 160 - 165 | 167 - 176 | 178 - 183 | 185 - 196 |
JUNIOR (Jr) / INTERMEDIATE (Int) chest protectors sizes

| | | | | |
| --- | --- | --- | --- | --- |
| | S | M | L | XL |
| chest perimeter (cm) | 50 - 61 | 61 - 71 | 71 - 81 | 81 - 91 |
| height statures (cm) | 122 - 135 | 132 - 140 | 137 - 150 | 160 - 165 |
Play with confidence knowing you're well protected. This certified, adjustable, cut-resistant integrated neck guard provides the ultimate in protection through DuPont™ KEVLAR® fibers. Revolutionary 37.5™ Technology evaporates moisture, creating the fastest drying fabric in hockey. Elbow pads stay in place with high-density grip print and a drop tail back hem keeps your shirt from riding up.
TURN SWEAT INTO ENERGY
Introducing the revolutionary 37.5™ Technology from BAUER. Integrated into BAUER products, this material is scientifically proven to increase performance whether you're working out or winning the third period. By evaporating sweat and removing it from the body, 37.5™ Technology gives you the energy you need to evaporate the competition.
New easy close adjustable collar for customized fit and comfort; with low profile hook and loop closure system
Flat lock seams to help reduce chafing
Raglan sleeves, underarm gussets, and shifted seams for maximum mobility
Drop tail hem that won't ride up
High density grip print on sleeves to help hold elbow pads in place
Strategic mesh panels for added ventilation
BNQ and CE certified neck laceration protection
DuPont™ KEVLAR® brand fibers at neck and clavicle areas for cut resistant protection
Revolutionary 37.5™ Technology maximizes evaporation of moisture for enhanced comfort and performance